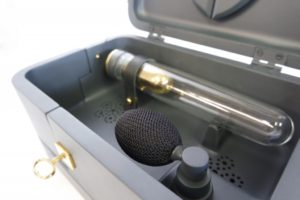 "'till death do you apart'… well, not necessarily true… The artist Mark Sturkenboom already had a vibrator on the market that contains the ashes of a departed loved one. He just came out with a follow up called 'Poetic Justice'. The package contains a vibrator with the ashes of a loved one, a scent to bring back memories to the intimate times, a place to store the wedding ring, the music to create a romantic atmosphere.
For those for whom this isn't bizarre enough: "For those who saw the first edition as a taboo, or for those who considers getting even closer with her love, Poetic Justice gives one an alternative. This edition also contains a poisoned cigarette that offers the possibility to be eternally reunited with your sweetheart again". A vibrator with the ashes of your departed loved one and a suicide cigarette… right…
For those interested, you can check Mark's website. Now you know!