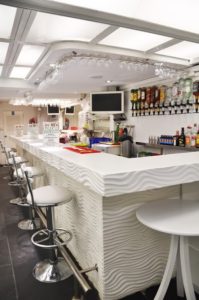 There are many themed bars in the world, ranging from your innocent sports bars to strip clubs and everything in between. There are clown bars (Jumbo's Clown Room in LA springs to mind), zombie bars, ice bars, gaming bars, etc. etc… we found one very interesting bar in Bangkok though… yes… where else…
The atmosphere is clinical, everything's white. The staff is dressed as nurses. The bar describes itself with "soapy massage". The name of the bar? Dr. BJ's. You can come here for a cold beer… or a hot… err… soapy massage… Yeah right… as if the name "Dr. BJ's" doesn't give away what this bar really offers… Apparently the staff is very helpful, you'll leave clean and all soaped up.
We prefer a beer…. or 6…. so no personal experiences on this review. But judging by the reviews this will be one soapy experience with a certain happy end!
After writing this article it was brought to our attention that the Thailand Police threatened to shut down Dr. BJ's for openly advertising porn (pornography is illegal in Thailand). Now the bar is called The Chrome Bar… ah well… it was fun while it lasted.
If you come across an interesting bar, make sure to let us know. Just drop us an email or a message on our facebook page. It doesn't have to be porn related, as long as it's interesting 🙂