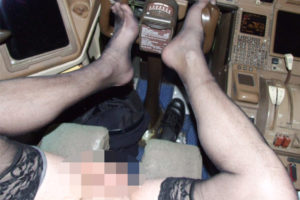 A British Airways pilot got fired… now that normally won't be news, but the reason this man got fired was that he… well… pleasured himself in mid air. Wearing stockings he flew the airplane with his feet 'cause he needed his hands for other things. I guess he had his mind on his job… And admittedly… those long flights can get very boring!
The weird part… Pilots aren't allowed in the cockpit alone… It seems the co-pilot stayed clear from the camera, he apparently still works at BA… Now you know why they call it a cockpit…
It's clear this wasn't a flight with WiFi on board. The pilot had pornographic magazines open on the aircraft's controls. Obviously he normally would have checked thehun.net on his mobile to get his kicks! Happy Hunning!