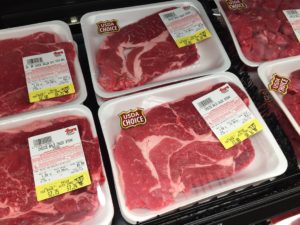 We all know February 14th is Valentine's day, but there's another "day of love" coming up: international Steak & Blowjob day on the 14th of March (there's even a Wiki about it)! And of course for the day after Steak & BJ: the Chicken and Licking day. So, in order to celebrate both, here's a recipe on steak, and one for chicken. I think you can figure out a way to learn about Blowjobs and Licking!
Spoil yourself and go for a Rib-eye steak. Cook it with the fat still on it, you can take that off after you're done cooking, or leave it on, whatever you prefer. You first heat a frying pan, as hot as it'll go. Add some oil (Avocado can stand heat nicely, peanut oil is good too), a bruised garlic clove and any herb of your liking. Season the steak with salt and pepper and cook for 1½ – 2½ minutes on each side. Take out the steaks and poor some wine in the pan (it will sizzle!), season with salt and pepper, maybe add a little mustard or honey to make a nice sauce. Enjoy with a bit of bread! The steak is best done medium rare, the blowjob should be well done!
I like Thai food, a nice easy Thai chicken dish is Thai larb. Add some raw sticky rice to a wok, no oil or anything. Stir continuously so it doesn't burn. As soon as it starts to color (can take a while) grind it to a powder. Add some oil to the wok, add 2 lbs (1 kilo) of minced chicken and a cup of fish sauce and stir fry 'till the chicken is done. Add 2 dices onions, a tablespoon of dried chillies (or more if you prefer spicy) and some dried Laos (or Galangal) and stir for another minute. The add chopped fresh cilantro (coriander) and serve with rice!
Apparently for people that don't go for either of there there is always Pizza and a wank. Happy Hunning! 🙂