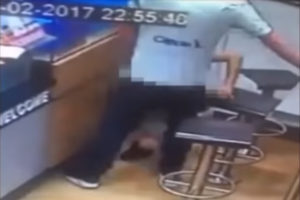 A couple waiting for pizza was charged with indecent behaviour last year. Both partners pleaded guilty. It was kind of senseless to do otherwise: everything was caught on a security camera.
The couple ordered a stuffed crust pizza and thinking of that nice, juicy, stuffed crust got their juices flowing. Unable to wait 'till they got home they decided to go for it, right then and there, against the Domino's pizza counter. The security cam registered them having oral sex and intercourse for 18 minutes, quite an accomplishment on an empty stomach!
The couple had been spared jail time. They were given 12 month community orders and a sex-month curfew which prohibits them from leaving their houses between 7pm and 7am. We would suggest firing the Domino's worker that took 18 minutes to prepare a stuffed crust pizza in the first place!
The original footage can be found on youtube